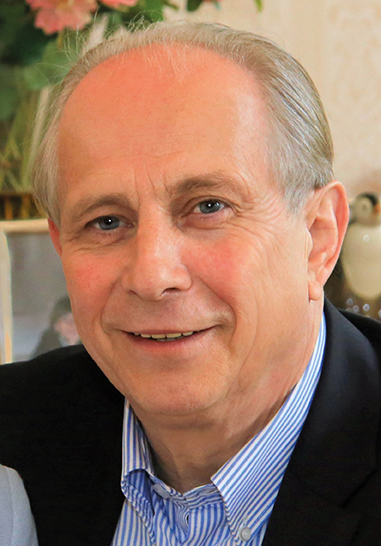 W
hen a taxi driver in Berlin
immediately asked if his guest would get an allowance, i.e. a grant to enable him to lead a lifestyle befitting his status. Alexander von Bismarck has to laugh when he tells this story and adds: "It would be nice!" But far from it, he took up a middle-class profession at a young age like many other aristocrats. The days of descendants being born with the famous "golden spoon in their mouths" are long gone. Thus he, who is a grandnephew of the Reich Chancellor Otto von Bismarck, successfully completed a banking apprenticeship at a long-established private bank in Hamburg. The fact that he was the best in his year in the Hanseatic city fills him with pride, as he says, because at that time students with famous names often only passed with a 4 and not an A. So he went straight on to study law and became a successful entrepreneur, running Europe's largest company for Christmas articles, together with a Dutch partner. This middle-class existence was the basis for being able to continue his noble family tradition at all. Such a big name is definitely a high responsibility, Alexander von Bismarck explains.
He emphasises that the Bismarcks are a normal family, with 340 family members scattered around the world, including South Africa and Brazil. He himself is married to a Russian and his mother was Dutch, so it is no wonder that several languages are spoken at the biennial family day.
Like Alexander von Bismarck, most of the family members pursue middle-class professions, and it is natural for them to contribute something to society. This was already the motto of his mother, who was convinced that one should sacrifice a period of one's life to the community, otherwise no state can function. So it is not surprising that many of Bismarck's honorary posts are in municipal councils, the fire brigade or charitable associations.
We take a look back to 1990, when Alexander von Bismarck was 40 years old and his father asked him if he could imagine taking over Döbbelin Castle in Saxony-Anhalt, which was returned to the family after the fall of the Wall. What sounds like winning the lottery looked quite different in reality. The oldest family seat of the Bismarcks, which was first mentioned in a document in 1344 (almost 150 years before the discovery of America!), received a manor house with outbuildings from his fifth great-grandfather, which in 1990 looked more like a ruin than a feudal residence. Nevertheless, it was out of the question for Alexander von Bismarck to refuse his father's request. His mind was made up and he immediately filled the family motto "Thinking in generations" with life. The energetic entrepreneur took over the estate and organised the reconstruction of the family seat. He likes to quote a well-known phrase of the nobility: "You may own it, but you only have it for a short time". That means you don't own it, you just keep it for the next generations.
However, this is often easier said than done, because the renovation of such an estate is very costly. At first, Otto von Bismarck's great-nephew took care of the park, as it was clear to him that nature needs more time than it takes to renovate a building. The main house was restored from 1999 onwards, which was a gradual process over 2 – 3 years, as it was not possible to repair everything at once. The good cooperation with a monument conservator as well as craftsmen from the region was helpful here. All this costs a lot of money and so creative, entrepreneurial actions were needed, because you can't draw money from such a property, you have to keep investing, the owner of the castle affirms.
So Alexander von Bismarck kept coming up with new ideas, even when the Altmark Tourism Association asked if they would like to cooperate and open the castle park to visitors. As more and more coaches with visitors found their way to Döbbelin Castle, a café was opened in the manor house, and there is also a Christmas market, where guests can conveniently buy Christmas articles from the landlord's company range, as well as LebensArt, an exhibition that is all about gardening, living and lifestyle. For this event alone, up to 15,000 visitors flock together to the estate every year over three days in May; the total number of visitors annually is 65,000, which brings some money in.
"So many guests are definitely a challenge when you live in a castle," Alexander von Bismarck explains, "but as an entrepreneur, you shouldn't run out of creativity."
This entrepreneurial thinking is especially important for a nobleman in order to preserve values for the next generations. But that is not all that needs to be thought of, because a very important question is which of one's own children will not only be able, but also willing, to take on such a responsibility later on. This thought is at the centre of Alexander von Bismarck's thinking, because he wants to find solutions for his children with which they feel comfortable and are not subjected to constraints. But here, too, everything seems to be settled, for the two eldest of the four children are already active in their father's business, and the third-born has declared his willingness to take over Schloss Döbbelin one day.
In this way, entrepreneurial virtues are combined with aristocratic traditions, and the best of two worlds remains united, without the need for appanages.