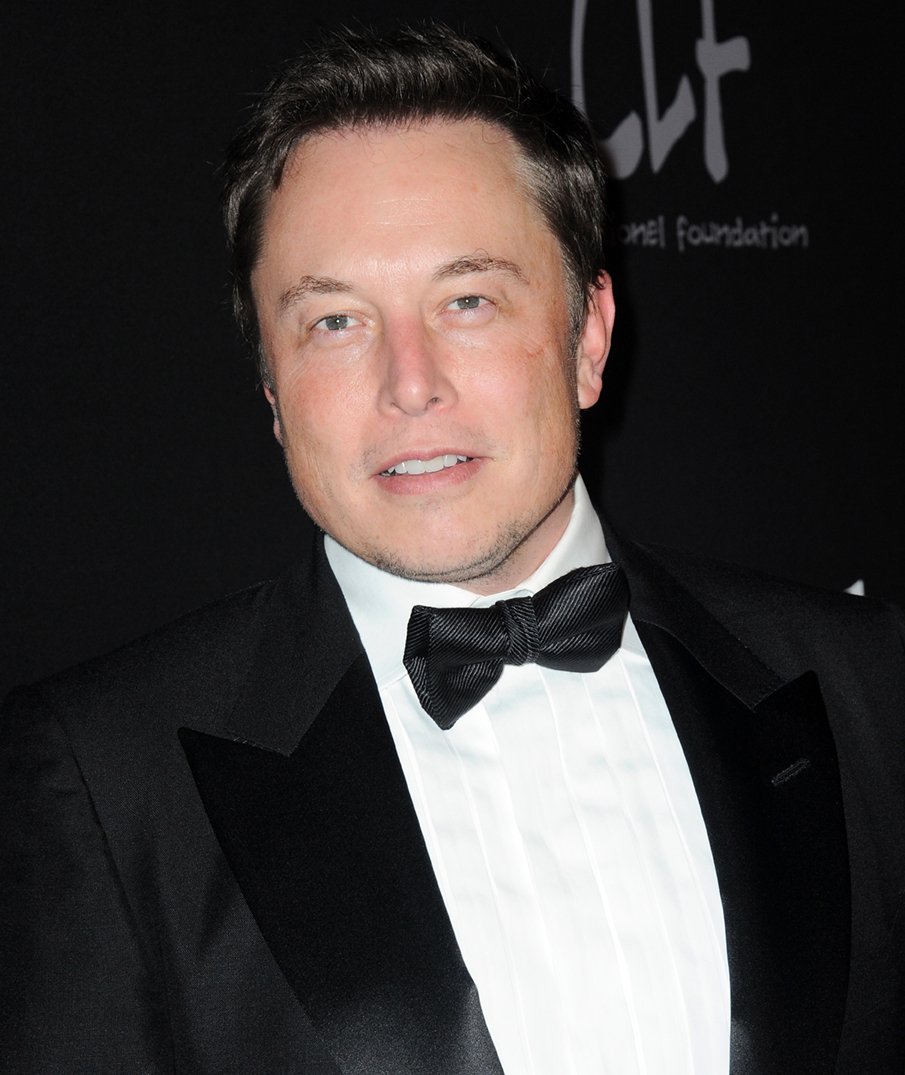 S
peaking of entrepreneurs who have changed
the world of modern times, one man cannot
He is not only an innovator, but a visionary, and not only in one discipline: he builds electric cars, sends recyclable rockets into space, wants to colonise Mars, send supersonic trains around the world, tunnel the USA and believes that someday brains and computers will merge into one. Elon Musk is considered one of the most active and courageous entrepreneurs of our time: the billionaire doesn't just want to find the next mediocre business idea, he wants to change entire areas of life, turn the everyday lives of billions of people upside down and shape the future.
If a name were needed to best describe Musk's numerous activities, "Mr. Future" would probably be the most appropriate.
What many do not know: Not everything went smoothly for the self-made billionaire in the past, especially in his formative youth. He could hardly wait to escape it and emigrated from South Africa to Canada at the age of 17, where he began his studies shortly afterwards. His big goal, however, was further south: USA, California, Silicon Valley. Together with his brother Kimbal, he spent his semester breaks there looking for business ideas, and in 1995 they both found what they were looking for. Having just finished their studies, the brothers founded their first company in Palo Alto, Zip2, a kind of yellow pages with map navigation. Just four years later, Compaq bought the company for $307 million, of which Elon Musk got $22 million. But unlike most twenty-somethings, Elon Musk did not indulge in a life of luxury or entertain the thought of never working again, but put almost everything into his next project, X.com, which would later be absorbed into the payment service provider PayPal. Musk was the largest single shareholder when Ebay bought PayPal for 1.5 billion euros in 2002.
Elon Musk's visions have always been limitless, so it was no surprise that his next project left Earth for space. He invested 100 million dollars and founded the space company SpaceX in 2002. It develops rockets and also takes orders from NASA. The company was founded with no less a goal than to one day put technologies on Mars that would enable humanity to live there. Currently, Musk's announcement is making headlines that his SpaceX will rescue the ISS space shuttle should the Ukraine conflict be escalated further by Russia or even moved into space.
However, the most famous company that Elon Musk has brought forward is Tesla. Initially ridiculed because many self-proclaimed experts did not see a future for e-mobility, the brand has since pulled out a big lead over the competition. Musk began investing in the electric car manufacturer back in 2003, almost 20 years ago. The work paid off: Tesla is still on course for success and has ventured into the "lion's den" by building a Gigafactory: Right in the number one car nation, in Germany, Elon Musk has set another milestone. In Grünheide near Berlin, 12,000 employees will soon produce 500,000 vehicles a year, making the Gigafactory the largest e-car factory in Europe in terms of production capacity. Everything else is also designed for innovation and sustainability: The factory roof will be equipped with solar panels. In total, Tesla expects construction costs of 1.065 billion euros for the Gigafactory in Brandenburg.
The actual factory building will have a huge area of around 600,000 square metres, with about 1.5 times that amount added for roads and parking spaces. This means that the built-up area alone would be almost as large as the entire site for Tesla's Gigafactory 3 (GF3) in China, which was started and completed in 2019.
Tesla is doing well even in times of crisis: the company recorded rapid growth worldwide and made its second annual profit in 2021 since the company was founded in 2003. According to its own figures, the company earned 5.5 billion dollars (4.8 billion euros), 665 percent more than in the previous year. Revenues rose by 71 per cent to 53.8 billion dollars. With a stock market value of almost one trillion US dollars, Tesla is by far the most highly traded car manufacturer on the capital market. By comparison, the German Volkswagen Group only has a total value of around 115 billion euros.
But what would e-cars be without batteries? Elon Musk always thinks at least one step ahead, and so Tesla laid the foundation stone for the Gigafactory in Nevada back in 2014. Even before its completion, Tesla was clear that the Gigafactory would be the largest building in the world – and run entirely on renewable energy sources. The plant, which is designed as a net zero energy factory, is mainly powered by solar energy. Already in 2018, battery production at the Gigafactory reached a rate of around 20 GWh annually, making it the highest-volume battery factory in the world. Tesla produces more batteries in kWh than all other car manufacturers combined. With the ramp-up of production at the Gigafactory, Tesla's battery cell costs have been significantly reduced through innovative manufacturing, waste reduction and the simple optimisation of housing most manufacturing processes under one roof, making e-mobility affordable for more and more people.
Entrepreneurs like Elon Musk are great role models for many CEOs of this world. Although few owners or CEOs will develop a brand like Tesla, there are things that are interesting for business. For example, that many of Musk's significant ideas came from small questions – such as the thought process for his Hyperloop project, a kind of pneumatic tube that transports passengers from A to B in a capsule at the speed of sound. The thought here was how can we make mass transit in California more convenient and environmentally friendly? The entrepreneur's thought process: with a railway. An electric railway. An electric railway that runs through a huge tunnel. The initial question and first answer may be small. Over time, the ideas are spun further and further until a fully developed concept for the question has emerged. Every small answer can grow into a possible solution, no matter how small and far-fetched it may seem at first.
And so, according to Musk, he initially developed the concept as a cost-effective and safe transport alternative for the connection between Los Angeles and San Francisco with a journey time of only 35 minutes, instead of 6 hours by car for the 570 km route. There is also interest in this concept for Europe and Germany. The route from Hamburg to Berlin could be done in 20 minutes instead of 3 hours by car. And the United Arab Emirates are also interested in this transport system. There, they reckon with a journey time of 12 minutes between the centres of Dubai and Abu Dhabi instead of two hours by car.
No matter which project Musk has worked on so far, he lives his greatest credo showing it to himself and his employees every day: "Work stops feeling like work when the work is connected to our personal passions. Because then we have fun doing what we do. That's what we should think about: what our passions are and how we can integrate them into our everyday work. If we can turn our passion into a job, we won't feel like we are working."
With this attitude, it can be assumed that "Mr. Future" will launch many more projects in the future that will move people – whether on land or in the air.