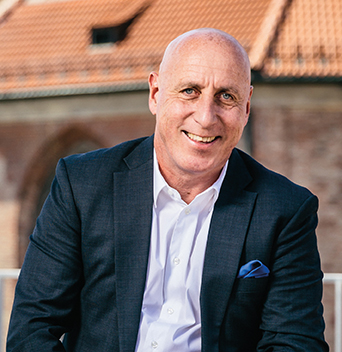 T
he art collection in the stylish and
extraordinary ambience inspires its visitors
right away. Impressive sculptures outside,
large-format paintings and photographs inside the Kunsthalle including a bull's head with butterflies reminiscent of an object by the British artist Damien Hurst, but also exhibits of classical modernism are effectively staged here.
However, we are not in the Tate Modern in vibrant London or the Centre Pompidou in Paris, but in the mSE Kunsthalle, which occupies 500 square metres in the quiet Bavarian town of Unterammergau, nestled between farms and pastures.
This special location was realised by Christian Zott. He talks enthusiastically and passionately about his vision, which became reality here in 2019. He has been collecting art for more than 30 years, but laid the economic foundation for this dream with his group of companies in the field of supply chain management and IT. As a successful entrepreneur, he has travelled the world professionally over the past decades. Nevertheless, he felt a great need to give something back to his homeland, to which he is very attached.  
In 2011, Christian Zott took seven months off and walked from Lisbon to Istanbul to clear his mind, but also to give his employees room to act independently. He had the confidence that his management team could take the company forward responsibly and lead it independently. Responsible action can only be demanded by those who are prepared to hand over responsibility, says Christian Zott. This principle has proven true.
On his way through Europe, he also had the idea of making his art collection accessible to the public. But the creative businessman didn't just leave it at the idea of an art gallery. His visitors should also be able to round off their enjoyment of art and culture with culinary delights in a hotel and restaurant.
Thus a triad was created, which, in addition to the mSE Kunsthalle, was completed by the Hotel LARTOR and the Restaurant HIERONYMUS. The interior design of the buildings is essentially influenced by Christian Zott's ideas. The architecture of the three buildings, which blend harmoniously into the landscape, forms a modern contrast to the surrounding courtyards.
The mSE Kunsthalle houses numerous works by contemporary painters and photographers, for example works by the Spanish painter Lita Cabellut or the German artist Tobias Köbsch. Germany's most important sculptors of the early 20th century are also on display, such as sculptures by Ernst Barlach and Wilhelm Lehmbruck, which form a harmonious complement to the contemporary positions.
Another unique project attracts the visitor's attention: KAIROS. THE RIGHT MOMENT. This permanent exhibition is inspired by Kairos, the Greek god for the right moment of a decision, and the idea that European art history consists of a plethora of decisions that determine which works we see and which we do not. Well over 90 per cent of the art created is not visible to the public, but is kept in the archives of museums.
The contemporary events and culturally significant moments of the past 2,000 years that were never painted by the masters of their era are brought to life in "KAIROS. The Right Moment". The painter Wolfgang Beltracchi and the photographer Mauro Fiorese fill these empty spaces in art with their works. In doing so, the exhibition casts a glance at the unseen in these epochs, at forgotten works and at those that were never created. The exhibition connects past and present and examines from a contemporary perspective not only what was, but also pointedly shows what could have been.
Those who want to experience more moments of pleasure after so much culture will get a taste for it in the HIERONYMUS restaurant, whose cuisine combines international flavours with regional products. Here, too, numerous original works are on display and a glass walk-in wine refrigerator weighing 13 tonnes hangs above everything at a lofty height. Those who want to spend even more time in a unique ambience in an idyllic landscape will find a wonderful place to stay in one of the twelve individually furnished rooms of the Hotel LARTOR.
In everything that Christian Zott has created, he has remained down-to-earth. What he has achieved does not fill him with pride, but with gratitude, he emphasises. For him, it is a kind of altruistic hedonism to share his passion, to make art and enjoyment accessible to other people in a special ambience. The fact that this vision has become reality shows that Kairos cannot do without Chronos. The many impressions in this special place make the visitor feel time in the most pleasant way.