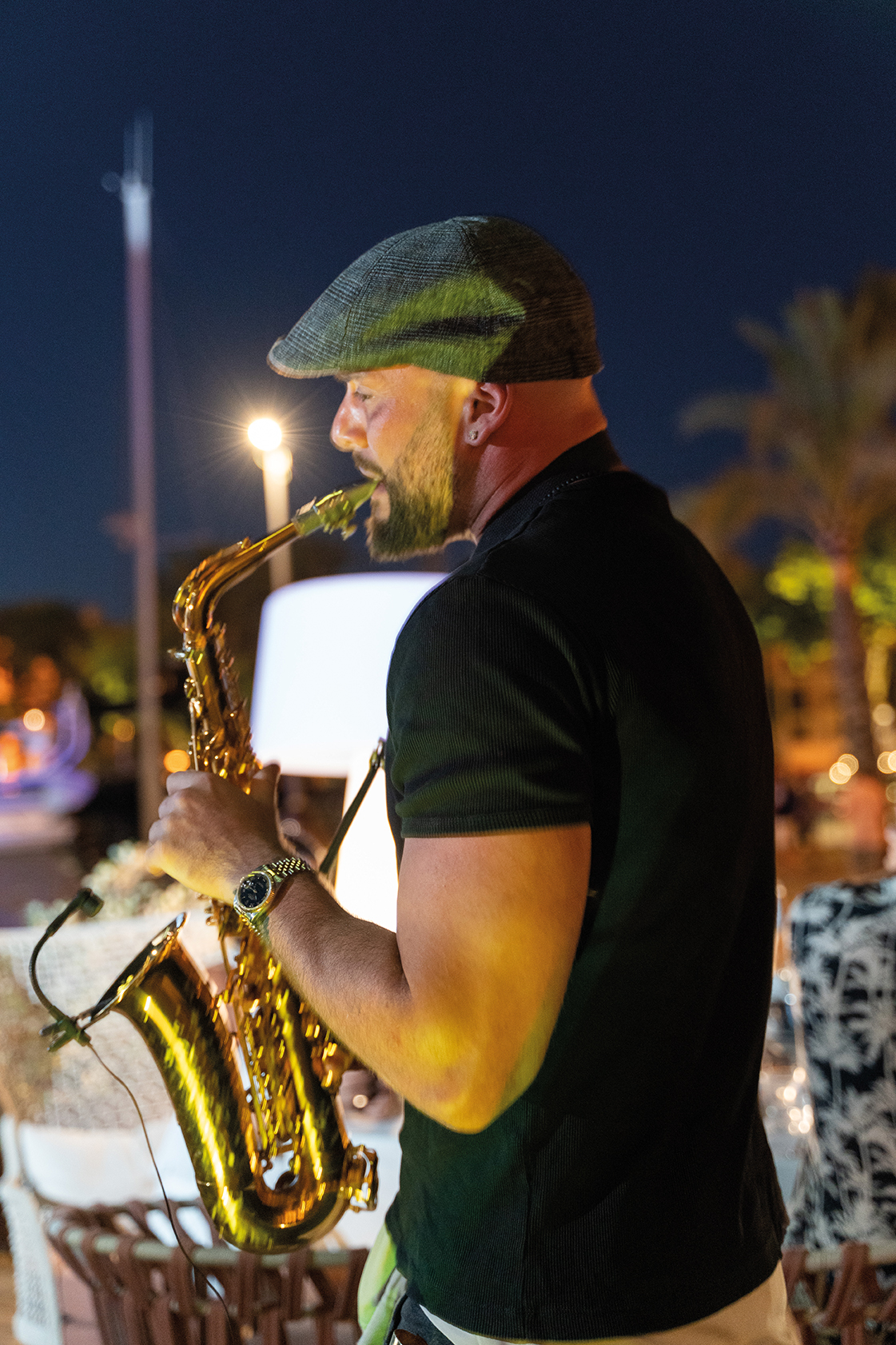 W
here could the conditions
for a media event combining
business and luxury lifestyle
be better than in one of Mallorca's best locations? As the main sponsor of this event in the Balearic capital Palma de Mallorca, WORLD ECONOMIST provided networking at the international top level with 400 invited guests at the Anima Beach Club. The audience was international and came not only from Germany, but some guests even flew in from the USA and Monte Carlo.
In addition to guests from business and society, numerous media representatives were also present, both from the print media (including Spiegel) and journalists from radio and TV stations. People chatted and networked in a relaxed and Mediterranean atmosphere in the best weather. But it was not only the sun that shone, but the successful side programme also ensured a good mood. Sports presenter Jörg Dahlmann gave a humorous and pointed welcome speech, the main sponsor and publisher of the WORLD ECONOMIST Volker Heun thanked the other sponsors and guests as well as Michael Ammer and his business partner Jan-Christoph Wagner from the company JCW Marketing. The two organisers provided an exclusive setting for the event and have also big plans for 2022, such as holding Player Nights during the German Polo Tour in Düsseldorf, Frankfurt and Berlin. One top event is already starting in July in Ellmau, Austria.
An excellent flying buffet spoiled the guests with a successful cross-over of Spanish and Asian cuisine. Prosecco was provided by the Italian premium brand Scavi & Ray, other drinks by MGB, ACQUA MORELLI water, 9 Mile Vodka as well as Sears Gin. The singer Cosmo Klein as well as DJ Noah Becker ensured a good atmosphere, bringing the right rhythm to the dance floor. A starry sky with a full moon and a view of palm trees and the sea offered something for the eyes as well as culinary and acoustic treats for the ears.
Already the day before, a select group of 50 guests, most of whom were sponsors, met at Mar de Nudos, directly on Palma's marina. Here, comprehensive discussions were held about the business. In addition to the location with a great view of the harbour of Palma, a top cuisine as well as a first-class musical programme provided for a relaxed setting.
Volker Heun, main sponsor of both events and publisher of WORLD ECONOMIST, was satisfied with the events: "We have taken another big step towards establishing our magazine and inspiring our community. Both events showed that our motto 'Business and Luxury Lifestyle' is a great match."
Top-level networking will continue in September, when WORLD ECONOMIST will host a joint event for entrepreneurs in the cathedral city with the renowned Dumont publishing house in Cologne.