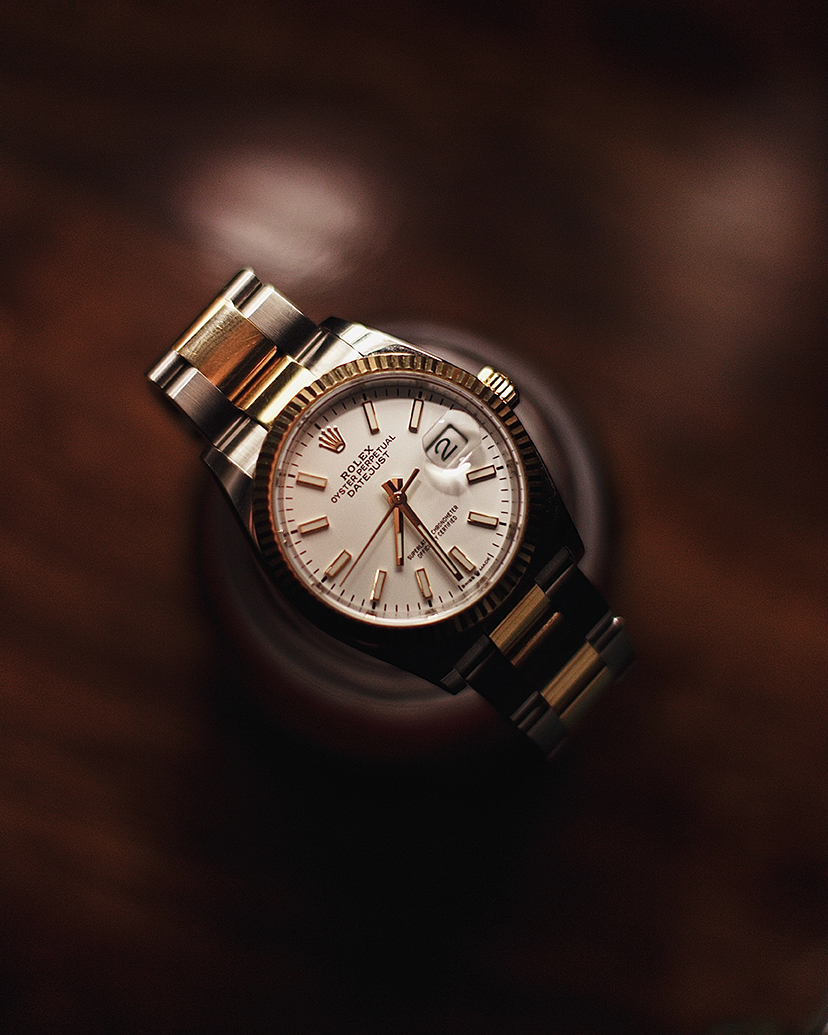 W
ho hasn't experienced this:
when we look at our diary,
Who hasn't experienced this: when we look at our diary, we feel like we're on a
tight schedule
and wonder where the time has gone. Yet in today's fast-paced world, a quick glance at the mobile phone is all it takes to see what time it is. But perhaps that is precisely why we know how valuable the time we have is. How nice it is then that for lovers of good taste there is a variety of luxury watches that have something for everyone, from classic models to modern high-tech designs.
The idea of a sustainable investment also plays a major role for watch lovers. More and more people are investing in a respectable collection that will increase in value even in difficult times. At the same time, many investors find it more desirable to collect beautiful things that give daily pleasure than, for example, shares that have no appreciable aesthetic appeal to the observer.
Another aspect is interesting for collectors: even crises in which buyers react more cautiously, hardly seem to affect the market value. Even during the COVID-19 crisis, the market prices of very popular models, such as the Rolex Daytona, continued to rise. At the same time, the internet offers a wide range of so-called pre-owned watches, which can be excellent investments.
These brands include above all: Patek Philippe, Rolex and Jaeger-LeCoultre, but also A. Lange & Söhne, Nomos Glashütte and Junghans. The list of objects of desire is long and could be (almost) endlessly continued. As an example, let's take a look at three of the most renowned brands from Switzerland and three from Germany.
Rolex (Geneva)
No list of the best Swiss watch brands can do without Rolex, a company that remains independent even in times of mergers and acquisitions. Rolex's strength lies in its high recognition value and a brand history in which not only the inventions themselves, but also marketing and PR are integral parts of the formula for success. Of course, the watches are also as good as a watch can be. While unlike other manufacturers, they don't focus on making highly complicated movement mechanisms, Rolex's main focus is on making precise, robust and highly low-maintenance everyday and sports watches. All of this with a consistency and quality that remains unsurpassed to this day. Rolex automatic movements generally perform their work at the highest level for many decades. A good dozen models are immortalised in the eternal watch hall of fame and are also known to broad public. Rolex has never been associated with a meaningful pathos. It has always been exclusively about producing high quality and accurate watches with quality of wear.
The most expensive Rolex of all time, the "Paul Newman" Daytona, is legendary. This watch is Paul Newman's own Daytona. According to renowned auctioneer Aurel Bacs of Bacs and Russo, "Paul Newman wore this watch pretty much every day from '69 to 1984". The back of the watch, which was a gift from the racing driver's and actor's wife, reads "DRIVE CAREFULLY ME". There are numerous photos of Newman wearing the watch, including at the 24 Hours of Le Mans and various other races. In 2017, it was sold at auction for around 16.5 million Swiss francs and is still the most expensive Rolex watch ever sold.
Patek Philippe (Geneva)
When watch connoisseurs talk about high prices, they are usually talking about watches from Patek Philippe. Patek Philippe references regularly set records at the largest auction houses, where a watch can change hands for a sum in the tens of millions. To this day, Patek maintains its exclusive image. Waiting lists for certain models are the norm here, and sometimes demand exceeds supply many times over. If you want to win a particularly sought-after model, of which there are sometimes only five or six pieces, you first have to go in person to the company boss Thierry Stern.
First among the most expensive Patek Philippe wristwatches of all time is, of course, the Grandmaster Chime Ref. 6300A-010. So what makes it so special? For one thing, it is the only Grandmaster Chime from Patek Philippe to be released in steel. For another, a Grandmaster Chime is a true marvel of watchmaking that combines 20 complications.
This marvellous masterpiece of watchmaking, created for the 2019 Only Watch auction, tops the list with an auction price of no less than 31 million Swiss francs.
Jaeger-LeCoultre (Le Sentier)
Le Sentier is the home town of the traditional Jaeger-LeCoultre manufacture. For many experts, this is the most innovative Swiss watchmaker. Jaeger-LeCoultre is a manufacturer with heart and soul that sees the pursuit of perfection as a continuous and unceasing process.
No other manufacturer can boast a comparable number of patents, no other has produced so many movement developments, and no other's expertise has been in such demand. The designs differ from those of other top brands in that they are often somewhat simpler.
The 1.6 million Reverso Hybris Mechanica Calibre 185, presented by Jaeger-LeCoultre in 2021, is the most complicated version of the famous reversible watch.
But it is not only Switzerland that is known for luxury watches. There are also traditional watchmakers in Germany. Historically, it was even the Germans who produced the first wristwatches before the Swiss. Peter Henlein, a blacksmith and watchmaker, was already making watches in the 16th century.
Made in Germany has therefore long been a seal of quality in the watch industry. In terms of precision, functionality and appearance, designs from Germany are internationally competitive and often even quite affordable. Small and medium-sized companies in particular are currently based in Germany. Their models are often in the lower luxury segment, but at the same time guarantee the best watchmaking craftsmanship.
A. Lange & Söhne (Glashütte)
This traditional company was established in Glashütte as early as 1845 by Ferdinand Adolph Lange and quickly began to establish Glashütte as a watchmaking town. Its watches are distinguished by traditional craftsmanship and loving attention to detail, which helped it to achieve international recognition beyond Germany's borders. In 1990, A. Lange & Söhne was founded by Walter Lange, a direct descendant of the company founder. With the help of Günther Blümlein, the president of IWC at the time, A. Lange & Söhne was able to re-establish itself as the most exclusive German watch manufacturer. Characteristic for many A. Lange & Söhne watches is the oversized date display and detailed complications such as the Lange 1 Time Zone. Their regional roots are also reflected in series such as the Saxonia.
With the "Grand Complication" luxury watch, A. Lange & Söhne presents what is currently Germany's most expensive watch and thus, of course, a masterpiece of the watchmaker's art. The model made of red gold has seven complications and consists of 876 parts. The specialists worked on it for seven years. There are only six models in the world, each costing 1.92 million euros.
Junghans
The Junghans company was founded in 1861 in the Black Forest and was the world's largest watch company with 3,000 employees. Junghans produces all kinds of watches. From wristwatches with manual winding or automatic calibres to radio-controlled alarm clocks, everything is represented. A special model of Junghans watches can be admired in the Sultan's Palace in Yogyakarta, Indonesia. After the end of the Second World War, Junghans specialised mainly in precise wristwatches and became one of the leading German brands in the 1950s. Classics such as the Max Bill Quartz were created in collaboration with Bauhaus artist Max Bill. Today, all watches are still produced in Schramberg in the Black Forest.
Nomos Glashütte
Founded in 1990, the Nomos Glashütte brand is a fairly young, up-and-coming company. Its production workshops are located in Glashütte. The watches convince with affordable prices, minimalist design and high accuracy thanks to an in-house calibre – Made in Germany. The watches are mostly very flat, their dials perfectly balanced geometrically and offer a lot of choice when it comes to colours and shapes. With series like the square Tetra, the Orion with eye-catching line indices or the classic Ludwig with Roman numerals, there is something for everyone.
The fact that watches have always been a fixture in the luxury lifestyle, making a good impression not only visually, shows that they can be a stable value alternative for good taste whose time is far from over.