– chaos, traffic jams and gridlocks are the result. Innovative mobility concepts are in demand everywhere, on the one hand to get from A to B as quickly as possible, and on the other hand to implement this requirement as efficiently and resource-savingly as possible. The commercial use of inner-city airspace is set to play a major role in the future – Urban Air Mobility is the name given to companies that are working on the development of so-called air taxis. Already today, there are more than 110 urban or regional projects worldwide for the provision of autonomous air transport services, from Dubai to Singapore.
However, these projects are not only being worked on in the major metropolises of the world, but also outside the gates of Munich. Located near the idyllic Ammersee and Starnberger See lakes, it seems to be the perfect place for a new project in the sky, because this is where history and future come together: in the past, engineers from the legendary aviation company Dornier designed one of the world's most innovative aircraft, the Do 31, there at the end of the 1960s. It was a vertical take-off aircraft that proved its performance in numerous test flights, but never went into series production because NATO preferred to rely on cargo helicopters. And today, experts from the Lilium company are developing electrically powered air taxis here that are reminiscent of science fiction films and are set to go into series production in a few years.
But a lot of money is still needed before that can happen. That is why Lilium is planning to go public – the shares will be traded on the Nasdaq technology exchange in the future. The investors include the Liechtenstein private bank LGT and funds from Blackrock and Tencent. With the IPO and earlier financing rounds, the start-up has already raised more than one billion dollars from investors.
In general, the electric air taxi industry is currently flooded with venture capital. Recently, Archer and Joby Aviation, two American competitors of Lilium, have raised 1.1 and 1.6 billion dollars respectively in a similar way. The companies were valued at 3.8 and 6.6 billion dollars, Lilium at 3.3 billion.
The company is driven above all by a vision: "We dream of a world in which everyone can fly to any destination at any time," Lilium CEO Daniel Wiegand is quoted as saying. "We've put an incredible amount of thought and care into the design of the aircraft and the services to achieve just that." The idea is that one day the cost per kilometre flown will not exceed that of a taxi.
Unlike most other providers in the sector, Lilium is not primarily focusing on inner-city transport, but on regional routes. Business travellers would then be able to travel quickly even to areas that are poorly served by high-speed railway lines or motorways. Fully electric, the air taxis are also much quieter than other means of transport and, above all, CO2-free. The idea of removing short national flights from the political agenda also plays an important role. On such a relatively short route, a Lilium series aircraft with a range of more than 250 km and a cruising speed of 280 kilometres per hour can be used without any problems.
Another important aspect for the start-up from Bavaria: especially in an industry of the future, synergy with experienced companies is important. For example, Lilium wants to set up its flight service in Europe together with the Luxaviation Group from Luxembourg. The pilots of the seven-seater vertical take-off electric jets are to be employed by Luxaviation, and the company will also take care of the local operating licence. It says it is one of the world's largest operators of business jets and helicopters and will be responsible for part of the flight operations while Lilium develops the network. In Germany, Lilium is planning stations in Cologne and Düsseldorf in addition to the take-off and landing stations in Munich and Nuremberg, and in Florida, Lilium wants to develop ten take-off and landing sites together with airport operator Ferrovial.
All the companies involved are working flat out on this project, so that the first official take-offs are already planned for 2024. It seems only a short step until a fantastic vision of the future becomes everyday reality.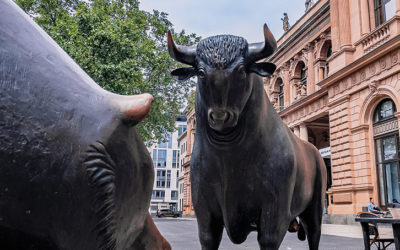 Prof. Dr. Max Otte T he stock market has human characteristics. That's why the Americans call him "Mr. Market". He never gets tired. Every day he calls out new prices. Sometimes he is depressed. Then he dumps stocks. And sometimes he only gives them away at manic...