than others is an oft-heard everyday wisdom, and indeed a large number of human and social science studies show that a person's outer appearance has a lasting influence on their career opportunities. Even though beauty is in the eye of the beholder and thus quite subjective, one thing is certain: most people are happy to be mistaken for being younger than they are. Thus, many trends have emerged in recent years that deal with this topic, and so it is not surprising when it is said: 60 is the new 40. What used to be considered unthinkable is now taken for granted by many successful people: to feel permanently fit and youthful.
When photos from the old days showed entrepreneurs and executives from business or industry, they were usually overweight and pictured smoking cigars. If, on the other hand, you look at the DAX managers and CEOs of today, they are predominantly slim and body-conscious in the literal sense of the word. An observation that Dr. Peter Paterok not only shares, but in whose development he has played his part. In his practice in Viersen am Rhein, the ENT specialist also deals with this topic and has developed his own therapy. In doing so, he takes the "best of two worlds" and brings them together into one concept, because the medical doctor complements conventional medicine with complementary medicine. The latter is an extension of usual medicine. For him, usual medicine often consists of pills and a scalpel. However, the specifics of the individual are not always seen, and "evidence-based medicine" – i.e. medicine based on empirical evidence – comes up short here. And this is precisely where Dr. Paterok comes in.
He makes it clear that one-size-fits-all rules cannot work for everyone because every person has a different history, a different way of life and, for example, eats differently. The doctor is convinced that health has a lot to do with one's own behaviour. Blaming one's overweight on genetics alone does not work. The individual cannot be served from a community shelf, which is why high-quality and individualised care and treatment methods are important, as well as a differentiated lifestyle. Everything has to be personalised, so he cannot recommend high-performance sport or ballet if it does not suit the individual physically.
For Dr. Paterok, there is no such thing as a typical patient. Sometimes sick people show up at the practice and the need is immediately obvious. But many also come on recommendation and with the desire to do something to be sustainably fit and healthy as well as to look younger and not just to treat the illnesses symptomatically.
The sequence of a downward health spiral usually consists of
strain – then extra strain – later exhaustion – then decompensation and finally – the disease itself, explains Dr. Paterok. He wants to start already at the point of overload, because performance should not lead to exhaustion of the reserves. These should rather be replenished again and again. And for this, there are new methods from research-based and biophysical medicine with which the "overheated running systems" are shut down in order to reach relaxation. All this aims at maintaining health and building resilience. Learning coping strategies and awakening the inherent power to maintain health are trained.
The basis for a treatment approach for the sympathetic physician is always classical medicine in advance, which provides the foundations for further diagnostics and therapy. Then we look at the individual to analyse where there are needs and deficiencies, but also where there are wishes. This is followed by a differentiated diagnosis, which he finds particularly exciting because it is supposed to be "faster than the disease itself".
The usual diagnosis in the case of illness examines decompensation. This is then actually carried out too late or simply too general because it follows the standards and often overlooks the individual.
Our health only forgives dissonance for a certain time, Dr. Paterok is convinced. Before the disease can develop as decompensation, we should all value, nurture and cherish health, he adds. Therefore, he uses functional tests to identify the weakening links in the chain. In this way, he and his team do their part to help patients recover and enjoy their lives again. The following eight elements are particularly important to him:
Food
Liquids
Breathing
Light
Movement
Communication thanks to the sensory organs
Soul
Dreams
All these components belong together and can be optimised at the same time, so success can also be planned.
Dr. Paterok uses a musical metaphor for this and sees an octave in these eight elements – this is the basis of the treatment. And so he speaks of each person being their own conductor for the concert of their life. If one wants to understand health as a concerto, the whole keyboard must be operated. Even Dorian Gray would probably have nothing to add to this equally appropriate and beautiful image.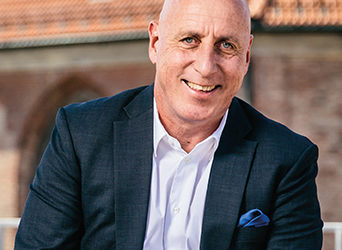 Christian Zott T he art collection in the stylish and extraordinary ambience inspires its visitors right away. Impressive sculptures outside, large-format paintings and photographs inside the Kunsthalle including a bull's head with butterflies reminiscent of an object...