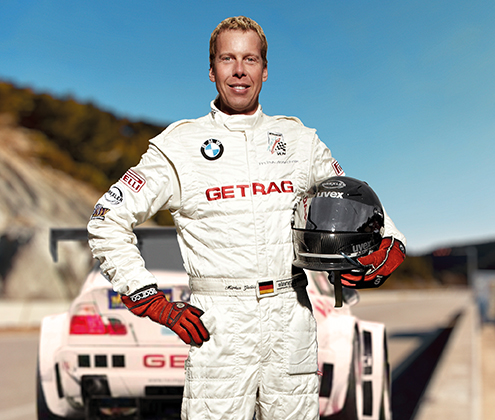 landscape in pastel shades. The air is mild and a pleasant fragrance fills the area of olive trees and oleanders. The temperature is already mild 20 degrees Celsius at this early hour, and that's just the start. The weather forecast says 27 degrees for this cloudless day. Yet it's not the high summer season in Germany, it is December and we are at the Circuito Ascari in Andalusia. A look at the weather app for Germany confirms that we did it right, it's drizzling rain and six degrees there.
Here in the south of Europe we are in the Endless Summer. This is not only that wonderful life moment that you would like to feel endlessly and that should never fade away, but it is also the title of a unique top event in a class of its own. Luxury lifestyle and extraordinary racing experiences for motorsport fans in dream weather conditions.
The initiator of this event and successful ex-racing professional Markus Gedlich smiles as he tells his story. One thing had already become clear to him years ago. He does not want to spend half his life in darkness, cold and wet.
As it happens, his path was predetermined early on in Markus Gedlich's life. When he was a boy he already felt petrol in his blood. No wonder, because his father was a Kreidler factory rider and rode world championship races for the legendary two-wheeler brand. So it was clear that Markus Gedlich already owned his first small motorbike at the age of five on which he could ride and quickly wanted to become a motorbike racer himself.
However, there were two reasons against it. He grew quite quickly in height – he is a good two metres tall – and his mother objected. The compromise was four wheels. Then a family friend advised him to make use of his talent, and so the starting shot was fired for the young racer at the Fiesta Cup in Zolder, Holland, where he immediately took 5th place out of 50 participants and became Rookie of the Year 1992 and thus the most successful newcomer.
After that, Markus Gedlich stayed in the fast lane and quickly moved up to higher classes, so he entered the Touring Car Challenge, the premier league of touring car racing at that time. He was runner-up there, although he was not able to compete in all the races for budget reasons. In the years that followed, he was runner-up twice and German champion once, after which he was even offered a 500 hp car by a team in the next league up. But after his championship title, he took a year off to find himself anew.
Markus Gedlich only wanted to pursue racing as a sideline, especially as many new business opportunities had opened up for him during his time out. In the meantime, he had become a driver-instructor and coach and was doing good business with various agencies. To him, this seemed to have a much better long-term future than racing. But then a former sponsor called him and offered him a place in a top car of the German Endurance Championship. Markus Gedlich didn't think twice, because there are offers you simply can't refuse, as he points out. So he gave it a try and after three turns was right back in the thick of things. He drove a BMW M3 GTR V8 from one victory to another, the highlight being a win in the 6-hour race at the legendary northern loop of the Nürburgring – a true racetrack legend where motorsport history was written. Unsurprisingly, he was subsequently signed up by the top Porsche team Alzen Sport to drive a bi-turbo with 900 hp.
Nevertheless, in 2009 Markus Gedlich stopped racing because of the positive business development he was still pursuing on the side. It was clear to him that he could not continue doing both things at once, because even at the time of winning the 6-hour race, he was on the road as an instructor. One day a former customer called him and said: "You coached me once, that was my personal breakthrough in racing. I want you to coach me personally and individually."
Markus Gedlich smiles as he says: "Honestly, I didn't really feel like riding along as a co-driver all day." Nevertheless, he let himself be persuaded, not least because the client was a good guy he liked.
The whole thing was so much fun for him and so successful that word got around very quickly in the scene. Then the business model took further shape because Markus Gedlich had coached another client who was a management consultant. This triggered him to develop a professional system for the young company, which succeeded and suddenly Markus Gedlich's small company had quality management and a guideline for counselling, there were communication structures for each route, for coaches, reviews of the driving as well as preparation bases for the handover from one coach to another. Thus, already in 2010 his company could conduct coaching sessions professionally.
But that was only the starting signal for his success story. Markus Gedlich coached like a world champion himself, but also had other good drivers as freelance coaches, and so things really took off in coaching. Just one year later, he took on the drift trainings. He booked smaller groups with other organisers, there were trackdays with coaching and small side events with guided laps on the Nürburgring-Nordschleife.
The decisive breakthrough for the company, however, was Markus Gedlich's aversion to the cold. All competitors and coaches went north to Sweden and Finland in winter to do fun things with cars on the ice of frozen lakes, for example drifting and brake training for end users. That wasn't his thing, so he turned the map 180 degrees to get out in southern Spain. A racing resort had just opened there in a dream location, the Circuito Ascari in Andalusia on one of the most beautiful spots on earth, built by Dutch entrepreneur Klaas Zwart, who fulfilled his dream of racing here for 50 million euros.
Markus Gedlich remembers that he flew there on December 7th 2010 and took a rental car. The outside thermometer showed 27 degrees. It was immediately clear that he wanted to stay here. So he started with his own investment, but without taking too much risk, and approached the people at the Circuito Ascari, who had a few cars there. He rented them and took a few customers with him. In the first winter, Markus Gedlich developed a few driving programmes, which he established on a small level; the customers passed it on with positive reviews. That was all.
That first winter he had seven of his customers' cars there, then there were 20, and now there are around 100 cars. Gedlich's company now has 28 exclusively rented driving days, cumulating to 800 trackday participations with a total of 3,500 guests. Today, the business model looks different, but the basic idea is the same. When the weather gets bad in Germany, motorsport teams bring their cars to the south of Europe, fly down solvent customers, rent cars or bring their own and drive the most amazing events you can imagine.
And what does a typical weekend like that look like? Usually, the arrival in Marbella is on Friday and starts with a Driver's Dinner at the Puente Romano, a first-class resort in the Marbella Club. On Saturday morning, the team heads to the Circuito Ascari, followed by an introduction to the team, a seat check in the race car and a briefing. At 9:30 a.m. the event will then start continuously until 5:00 p.m.; you can either drive with a coach or on your own, in between there will be lunch in the clubhouse. Later, it's back down to the coast to Marbella, where the next dinner awaits.
On Sunday, the second day of racing follows, you see like-minded people again whom you have already met in the driver camp and after the finish, there is another meal and on Sunday or Monday, it's time to go back to dark, wet and cold Germany.
Why is this event so special? Besides the joy of racing cars, horsepower and competition, it is this great contrast that makes this unique experience.
In Germany, the weather is terrible, but under the Andalusian sun, car enthusiasts can spend days with like-minded people who are all eager to drive, explains Markus Gedlich.
He adds: "Here, there is no fear of social envy, no socio-political upheavals, but fun in the maximum way, in dream weather and fantastic routes that cannot found in Central Europe. The name says it all: Endless Summer!
Markus Gedlich is convinced that this slogan awakens longings that go far beyond driving. It's about the imperishability of beauty and that's what everyone wants, always and everywhere. Endless Summer fits perfectly because it is very emotional!
As if all this wasn't unique enough, for the past two years there has been a dedicated racing series that goes well beyond trackdays: the GT Winter Series. Some motorsport teams said they would only come, if there was real racing for real men, otherwise not, reports Markus Gedlich. So he came up with the idea of going beyond the Trackdays and the GT Winter Series was born. This involves four events between December and March in Portugal and Spain on legendary Formula 1 circuits in Barcelona, Jerez or Estoril. Despite the last two years, which were challenging due to Coronavirus, the series is now well received and a great success.
Those who prefer to follow their racing passion in the summer months also have the opportunity to do so, of course. On the race tracks of Monza in Italy, Paul Ricard in the south of France, Silverstone in England, the Red Bull Ring in Austria or the Nordschleife of the Nürburgring. International racing history was written here, which makes the heart of every motorsport fan beat faster. It's the opportunity for every horsepower lover to live out his or her personal dream. Because the racetracks have different characteristics, this offer also enjoys great demand.
With all the fascination for cars, races and dreamlike racetracks, what characteristics has Markus Gedlich been able to take with him from competitive sportsman to entrepreneur? He doesn't need to think long: "Above all, it's developing ambition."
He wasn't like that at all in the past, he emphasises. "But the feeling that cameras are rolling and 250,000 people are watching on the screen, and you're showing yourself up because you didn't perform properly, that's really embarrassing, you can't allow yourself that," explains Markus Gedlich. Taking failure personally drives him as an entrepreneur. Perseverance and investing an extra spark of energy so that failure doesn't happen is totally vitalising for him.
Keeping calm and staying cool are also important entrepreneurial traits for him. Letting things roll off your back when customers or competitors do strange things and you can only go mad. Many problems solve on their own then, because it's like in motor sports: you have to be good all the time, then success will come on its own.
Permanently good. Then let's risk a look into the future. Where is the journey going? What does the future of these events look like? Will everything soon be electric and racing will soon become history? These are questions that Markus Gedlich hears frequently, but he is not afraid of them, because he is sure that exactly the opposite will happen for his business. Many of his customers have fast cars, but they know that driving fast on the motorway is useless and that it is the wrong place for speeding, with or without a speed limit. If they want to drive sportily, they want to do it properly, and then it's the racetrack where you can go full throttle. People enjoy it and want to drive because it's their hobby and their sport. The issue will not change.
So what is Markus Gedlich's motto in life? "There is life before death", he is sure of that and tries to live and implement it. He lives like his clients,
because he likes luxury and the good life, real estate, cars and people. He firmly believes that this is one of the reasons why he appeals to his customers, because this attitude to life connects them.
Listening to Markus Gedlich, you are sure that he cannot wait for the next Endless Summer and hopes that it will never pass. The nice thing is: the sun of Andalusia is already waiting for him and his customers.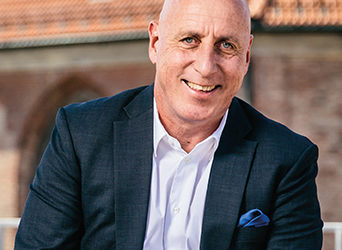 Christian Zott T he art collection in the stylish and extraordinary ambience inspires its visitors right away. Impressive sculptures outside, large-format paintings and photographs inside the Kunsthalle including a bull's head with butterflies reminiscent of an object...