it a little, smells extensively to take in the bouquet, then takes a small sip. You can see that the man knows something about good wines. No wonder, because the story of this winegrower is as special as his wines.
Frank Maruccia used to be a successful owner of a market research institute in Hamburg. But then the stress became too much and he realised that he had everything but a life. And so he sold his company and followed his family roots, which had always been connected to wine. When he was young, he helped his family, based in Baden-Württemberg, as well as his father's family in Apulia, to grow grapes.
In search of his new life, Frank Maruccia found an uncultivated plot of land near Llucmajor on Mallorca, away from the tourist hustle and bustle, and has been growing his own wine there on 1.6 hectares since 2009. Today he is doing what many only talk about: he got off the hamster wheel in time and is living his dream. Nevertheless, as an autodidact, he had to learn a lot, read a lot and exchanged ideas with other winemakers.
It was always important to him to create something special, and so it is only logical that his wines are not additionally irrigated and filtered, but go straight into the barrel almost untreated. Frank is a one-man show. He produces his wines himself without any permanent employees. From working the vines to bottling the wines, he makes them self-sufficiently. At his bodega, he grows red grape varieties such as Cabernet Sauvignon, Cabernet Franc, Syrah and Merlot, the white grape Chardonnay and the Mallorcan Callet. But he can't quite escape his life. With his "Elixir", the only island amaro to date that is created on the basis of island herbs and the Soller orange, Frank has developed a product that can be multiplied and is currently really taking off.
How would Frank Maruccia describe his wines himself? They have character, they are not uniform, they are not mass-produced. You will look in vain for wine bottles from his bodega on supermarket shelves. This philosophy is reflected in the exclusive Club 953, which Frank Maruccia founded a few years ago. (The number 953 corresponds to the number of wooden posts used in the vineyard of his bodega). Frank sells his wines to the members of his club, who have a right of first refusal before they also find their way to selected restaurants from the top gastronomy. The idea behind membership is, among other things, that members have exclusive access to his wines. Frank also offers them the opportunity to receive limited wines with their own label or their own barrels with their name and thus their individual wines. The content of a barrel usually amounts to 225 litres, which corresponds to about 300 bottles.
Another highlight of membership: exclusive events on a small scale, accompanied at the bodega by top gastronomes such as three-star chef Juan Amador or one-star chef Bernd Bachofer, among others.
In total, Frank produces a small but fine edition of 7,000 – 8,000 bottles per year. Admission to his club is only possible after a personal meeting. The decisive factors for joining are mutual sympathy, the love for wine and the pleasure of good conversation accompanied by exclusive wine and unique food.
What accounts for his success? Frank Maruccia only thinks for a moment and says with a smile: "I have developed a unique concept with my club, in which my members are the focus – and they feel my love for wine, exclusive quality and enjoyment. And they know that I like to share everything with them."
BODEGA MARUCCIA
Club de vino 953
Camino Son Mendivil B. 30
ES – 07620 Llucmajor – Baleares
Tel. +34 663 70 60 61
www.maruccia.com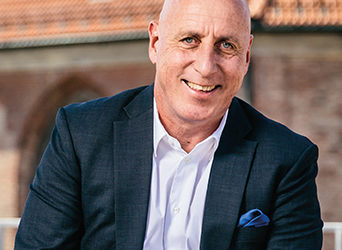 Christian Zott T he art collection in the stylish and extraordinary ambience inspires its visitors right away. Impressive sculptures outside, large-format paintings and photographs inside the Kunsthalle including a bull's head with butterflies reminiscent of an object...