porcelain, but also an expert. Art historian Dr. Ingeborg Becker, former director of the famous Bröhan Museum in Berlin, is excited when she talks about the 'white gold'. She has a special relationship with the Königliche Porzellan-Manufaktur Berlin (KPM), a traditional brand founded by Frederick the Great in 1763 and one of the few large porcelain factories still existing today.
Remarkably, KPM has always managed to bridge the gap between history and modernity and succeeded in many stylistic eras. From Rococo to Classicism, from Art Nouveau to Bauhaus and onwards, at all times having a set, vase or figurine from this traditional company was considered something special.
At the time of Frederick the Great, porcelain was a luxury item available to only a few. The king was so fond of porcelain that he called himself its best customer. His generosity reflected in his relationship to Catherine the Great.
They had known each other since Catherine's first trip from Anhalt-Zerbst to Russia. When they later formed an alliance to strengthen their position in Europe, Frederick sent her a magnificent table decoration set with numerous figurines. In its centre war the enthroned tsarina, around her various figures associated with her personality as well as with history, war and peace. Thus Catherine was reflected with her virtues and qualities. It took more than two years to produce this element alone, and sending this work of art with more than 200 different figures to Russia was a great logistical achievement.
A lot has happened since KPM was founded. While the company was formerly state-owned, in 2006 the banker, entrepreneur and porcelain lover Jörg Woltmann took it into private hands, thus saving the traditional brand from bankruptcy. Irrespective of the challenges of the individual eras, the manufactory has always had a very special and unique selling proposition as it has always been characterised by a clear and modern design. This can be carried over to the present day because the design is always characterised by classic elegance and timeless beauty.
Good things take patience, which is why the collection takes a long time to produce. The new Berlin collection by Enzo Mari, a renowned designer and object artist, took three years from first sketches to production. There was a lot of trial and error before the designs were put into production. It all takes a long time and a lot of work until the perfect result is achieved. At the same time, work in a manufactory is very demanding, as precision and experience are required. By its nature, this work is manual, you get dirty and it is not easy to work with ovens. An interesting fact is also that it takes up to seven years to train as a porcelain artist.
So what is the recipe for success for a brand that has been around for more than 250 years? Dr. Ingeborg Becker believes it also has something to do with where KPM was founded, Berlin or Prussia. It has always been a more austere and serious place than, for example, the courtly Dresden. Berlin has always been faster and more modern in this respect, the art historian explains.
In the past, porcelain was always a luxury for the few; today we attempt to create a link between tradition and modernity in order to attract more customers. And yet there is no such thing as a typical customer of porcelain. Unfortunately, porcelain no longer has the same status among young people as it used to have. They prefer to buy their crockery from a Swedish furniture manufacturer.
Nevertheless, porcelain has a future because there will always be people who appreciate it. Whoever loves refined hospitality won't miss it. Porcelain will never lose its charm because it is also linked to our culture, and KPM has always kept up with modernity and done a lot to enrich everyday culture; it is modern by tradition.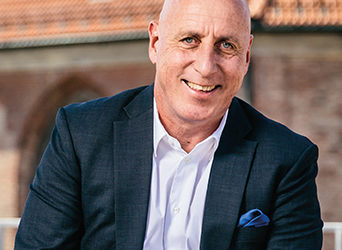 Christian Zott T he art collection in the stylish and extraordinary ambience inspires its visitors right away. Impressive sculptures outside, large-format paintings and photographs inside the Kunsthalle including a bull's head with butterflies reminiscent of an object...