T
hey are called Google, Apple,
They are called Google, Apple, Facebook and Amazon (GAFAs) or Baidu, Alibaba and Tencent (BATs). The BigTechs from California's Silicon Valley or the Middle Kingdom show Europe how digitisation and artificial intelligence are catapulting our economy and society into a new age. But what does this development mean for the European continent and what should be done now? François Baumgartner spoke with Harald Patt, FinTech expert and private equity advisor. He is an expert and has many years of sound experience as Managing Director at Fosun, CEO at the Fosun Europe Innovation Hub, General Representative at the FinTech Group Bank AG and Managing Director of AKTIONÄRSBANK Kulmbach GmbH. Prior to this, he was a successful founder and member of the board of directors of Panthera Capital AG and CeFDex AG – Wertpapierhandelsbank. In addition, he holds several supervisory and advisory board mandates, including The Naga Group AG, CRYCO AG, Optiopay GmbH and Digital Devotion Group AG.
Mr Patt, what do US or Asian digital companies do better and why are they more successful than other companies in Europe?
This has to be considered in a very differentiated way. Because of the basic data protection regulation in Europe (EU-DSGVO), the data-oriented platform economy in our country has a somewhat harder time than in the USA and China, where data can be used and commercialised more quickly through the GAFAs or the BATs. Let us further assume that there are two companies with the same business model in Silicon Valley and in Germany. Then it is certain that the company is more likely to grow faster in Silicon Valley, because there are several and higher financing rounds possible. Another aspect is that we in Europe always work on the perfect product before we dare to roll it out. In the USA and China, on the other hand, the motto is to bring a minimal viable product to the market as quickly as possible. But there are also some positive examples of this in Europe.
What would these be?
One German success story, for example, is N26. The Neobank achieved its growth partly through US investors. Tesla in Brandenburg, on the other hand, is a good example of a fast approval process.And according to the latest study on digital competitiveness by the European Center for Digital Competitiveness (ESCP), France improved by 95 ranks in the three years from 2017 to 2019 and established itself as the leading digital achiever within the seven most important industrial nations (G7). However, the French government's measures to achieve this success, such as the creation of appropriate authorities and the associated reduction of bureaucracy, have long been implemented in the USA and the Middle Kingdom. Germany and Italy have fallen furthest behind in the same period.
What role does digitisation play for mobility, sustainability and health now and in the future?
Digitisation is taking place across all industries and sectors of the economy. In addition, the probability of success of digital technologies is particularly high in the growth areas of mobility, sustainability and health. As a board member, you always have to ask yourself: How will my industry be positioned in 50 years from now and how will people live then? One thing is certain: with data-based and automated business models, people have little interaction with the problem solution itself during the process. In other words, a service is all about convenience, agility and simplicity. Mobile apps with geo-targeting in particular can certainly achieve this. A good example would be the purchase of a ticket with regard to documentation and billing as well as the selection of the cheapest tariff.
What distinguishes smart products and why does the future belong to them?
Smart products are intelligent products. They can adapt to their environment and their users in an ideal way. Our lives will be connected with physical products in order to achieve precisely the individuality we demand. A running shoe will connect to the smartwatch to perhaps alert you to risks while running. Predictive maintenance of machines is becoming increasingly popular in the industry.
What is Digital Engineering (DE) and where are the advantages and opportunities?
Building a data-driven enterprise means first building data literacy, questioning existing corporate cultures, seeing technology as an opportunity for growth, and knowing what it means to be data-driven. It also means not just looking at data as a separate part of the business. Data should also be findable, accessible, compatible and reusable. All this must be flanked by the latest IT and communication technologies.
Why do we need more digital platforms in Europe?
The platform concept links service providers and their offers and expands the product portfolio in the interest of consumers. For customers, convenience plays an important role – everything is accessible via an account. The customer does not care which service provider is behind it. He prefers one platform with many solutions instead of many platforms with few solutions each.
Robot process automation, machine learning and artificial intelligence are on the advance. Algorithms, data science and data mining provide the basis. How will these disciplines change business organisations and products?
As part of the social and economic transformation, all business processes are becoming increasingly digital. Through digital engineering, or more precisely, the use of modern digital technologies in the course of Industry 4.0 around networked business processes, value chains are completely optimised. From development and production to relations with customers, suppliers and employees. As a result, "smart factories" are a central component of modern and agile management of product life cycles.
Digital change requires a good infrastructure. This is where companies see the biggest obstacle. What needs to be done?
5G and broadband deployment must be massively promoted. We need not only digital consumers, but above all digital producers. We have not even fully deployed 4G in our country, while Shenzhen alone is the first 5G city in the world. Or take artificial intelligence, where China already in 2017 decided to become the world market leader in this field by 2030 and is investing 150 billion euros for this purpose, while the European Commission is providing just 20 billion euros.
Mr Patt, thank you for the interview.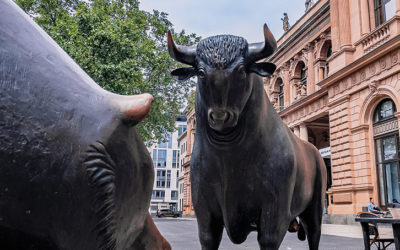 Prof. Dr. Max Otte T he stock market has human characteristics. That's why the Americans call him "Mr. Market". He never gets tired. Every day he calls out new prices. Sometimes he is depressed. Then he dumps stocks. And sometimes he only gives them away at manic...