EEG has set itself the task of enriching every household through access to renewable energy: both ecologically and financially.
The phrase "Doesn't exist" doesn't exist with us. No house is too big and no project is impossible. With this philosophy, EEG Autark GmbH has been developing complete energy systems for almost five years. The concept is very simple – simply the best for our customers, because: The PV system on the roof of a house converts solar rays into usable energy that is directly available to the operator. Most people may be familiar with this. But the really great thing about it is that a home storage system stores unused energy that the consumer can access in the evening and at night.
Another advantage for our customers is that they can choose between different types of storage, including innovative and ecologically safe salt water and hydrogen storage.
Our high-quality PV systems make it possible to fill up a lot of solar energy in an extremely short time, so that the storage unit fills up quickly. For this reason, EEG Autark GmbH also offers the option of a cloud connected to the regular electricity grid, into which surplus energy flows. Here, too, the principle is as simple as it is effective. If the storage reserves are used up, customers continue to be supplied with electricity and energy via the cloud, which is particularly important for warm hours in cold winter months.
Another and special premium service that sets us apart from the competition is our temporary stand-alone solution. What does that mean? Unlike conventional PV systems – which at best only have an emergency power capability – with the temporary stand-alone solution, your own solar power production and the charging capability of the storage unit remain unaffected by power outages. With our three-phase emergency power solutions, the system builds up its own grid and functions independently of external influences. Since the plant nevertheless produces less energy in winter, a cloud is still important even with the temporary stand-alone solution.
But we also meet such seasonal challenges with our complete stand-alone solution. The hydrogen storage that we offer makes it possible to store such a large part of the surpluses produced in summer that the operators are supplied with energy throughout the winter. Conventional storage systems cannot keep up with this due to their lack of capacity. With our stand-alone solution, access to the general power grid through a cloud is no longer necessary, because customers exclusively consume the electricity produced specifically for them, 365 days a year.
Our packages are individually tailored to the needs of the customers. Our additional services also include specially adapted heating systems. For owners of an electric car, for example, we also set up their own wallbox at the same time so that the car can be charged at home. We are the only provider in Germany to combine all these technologies under one roof. Another advantage is that our customers only have one contact person for energy production, storage and use. This means flat hierarchies for the benefit of the consumer, no wrangling over competences that are expensive but do not achieve their goals. The result is full of energy and speaks for itself: as part of our all-round carefree service, we accompany system owners from the beginning of the planning process far beyond the installation, because those who choose EEG Autark GmbH receive a guarantee of up to 35 years. That's a promise!
So there are plenty of reasons for us to get to know each other, so that you can enter the future with energy!
EEG AUTARK GmbH
Tower 185
Friedrich-Ebert-Anlage 35-37
60327 Frankfurt am Main
+49 69 50 50 47 306
energie-eeg.de; kostenfreie-energie.de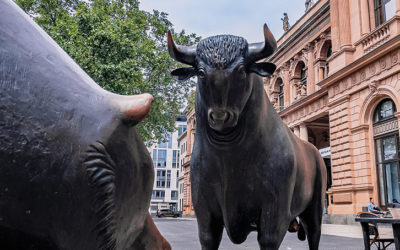 Prof. Dr. Max Otte T he stock market has human characteristics. That's why the Americans call him "Mr. Market". He never gets tired. Every day he calls out new prices. Sometimes he is depressed. Then he dumps stocks. And sometimes he only gives them away at manic...